Management of Pregnancy
A baby is a gift from God. When you are blessed with a pregnancy, try to keep a positive mind frame, eat healthy, stay physically active (unless advised otherwise by your Doctor) and above all follow the advice of your Gynaecologist with all sincerity.

High Risk Pregnancy Care
In today's modern times when the female partner is also an active earning member of the family, her pregnancy may not be as smooth as expected and there may be some unwanted developments which may be put you in the high risk pregnancy group.

Menstrual Problems
Every female has some bleeding days of her menstrual cycle every month for many years of her life. Many times these may not be as normal as others and the situation will need guidance and management from a Specialist Doctor.

Fibroid Uterus
These tumours of the uterus are quite common, many times found on routine ultrasound. If these are symptomatic or large in size they cannot be ignored and Gynaecological advice is needed.

Ovarian Cysts
These tumours of the Ovary are of many types and may be cancerous at times so the Treatment depends on the type of tumour. Ovarian cysts should not be ignored.

PCOD
An unhealthy lifestyle, physical and mental stress, junk food, lack of sleep, smoking, may lead to PCOD. it is also thought to be genetically predisposed. Please follow your Doctor's advice sincerely.

Ectopic Pregnancy
When the pregnancy does not enter the uterus and gets implanted elsewhere like the fallopian tube or ovary it is called Ectopic pregnancy and it is a very risky situation and can be life threatening. It is thus advisable to visit a Gynaecologist as soon as you realise that you are pregnant.

Adenomyosis Treatment
Problems of menstrual cycles with painful and heavy bleeding is seen if your uterus is having adenomyosis. Such a situation should not be ignored and it is advisable to visit a nearest Doctor.

IVF & Infertility Treatment
Inability to conceive is seen frequently due to marriage at advanced age, and planning a pregnancy even later. Visit a Gynecologist as soon as you decide to plan a pregnancy or even sooner if you have already crossed thirty years of your age.
What Our Happy Couples Are Saying!
Dr Neeta Gupta is one of the finest doctor, highly knowledgeable and professional at her work. She made my pregnancy journey really smooth.

The best thing I have noticed about Her is that she gives confidence and positive vibes to the patient to fight with the problem and just a calls away to hear them which gives upmost satisfaction to the patient.
Dr. Neeta was a god sent during my delivery.It was the time of lockdown (April 2020) and I had to change my gynae last moment as the borders to delhi were closed. Thankfully, Dr. Neeta agreed to take up my case last moment without a second thought and handled it with utmost care. She was always available on the phone as the clinics were closed due to lockdown..She is a wonderful doctor and great person..!!
Everything was just PERFECT!

Dr Neeta is very caring and following her guidelines made our journey very smooth.
PS: The delivery was normal (we insisted for epidural alot but she refused and took the correct decision required at that moment)

Thank you doctor 🙏🏻😊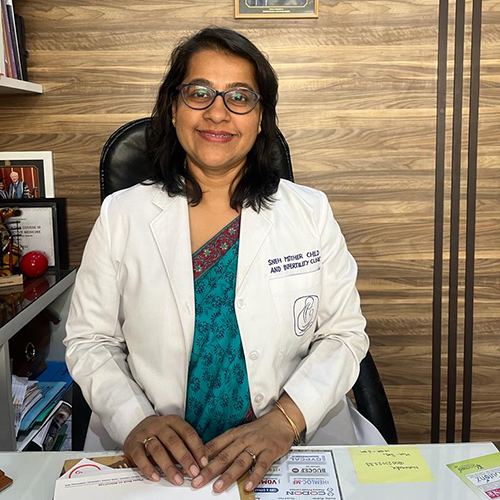 MBBS, MD – Obstetrics & Gynaecology, MRCOG (UK)